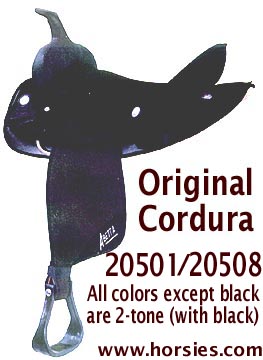 TREE: Abetta All-Around by Ralide.
CANTLE: 4" highback.
SEAT: Suede type material - comfy and secure.
HORN: 3-1/4" Leather covered.
SKIRT: Round 26" x 12"
RIGGING: 7/8 Nylon/leather halfbreed with SS dees.
STIRRUPS: 2" Bell with no-slip tread.
FINISH: Scratch resistant, easily-washable Cordura nylon over shock-absorbing foam; Engraved Silver conchos.
COLORS: 20501: Black (BK)
WEIGHT: 17 pounds.
AVAILABLE ACCESSORIES: Bridle, complete with bit, curb, and reins; 3" wide Neoprene Breast collar.

| | | | |
| --- | --- | --- | --- |
| ItemNo. | Item Descr. | ListPrice | OurPrice |
| 20501-5 | 15" | $730.00 | $360.00 |
| 23102 | Bridle - have black and brown | $ 70.00 | $ 34.00 |
| 3094-32 | Girth | $ 30.00 | $ 17.50 |
| 23239 | BreastCollar - have black and brown | $ 60.00 | $ 37.50 |